Holla Ballers, and welcome to the official home of Preach Gaming, our brand new, shiny, website. The amazing support of our fans has given us a fantastic opportunity to not only expand our team, but to set up this one-stop hub for all information you could ever want to know about the PG community.
If you were frustrated about having to track down links for our gear store, annoyed at not having a definitive place for PG news, or a bit miffed about not finding a particular Drama story, then worry not because we were too. With your support we were able to answer those problems and create our new website.
This one-stop shop for all things PG is absolutely crammed full of information, and we've tried to leave nothing out. You can see the latest videos from both our Preach Gaming and PG Stream Highlights channels on the front page, fix your transmog up with our custom designs in the new shop, and even search for your favourite Drama story in our new Drama library.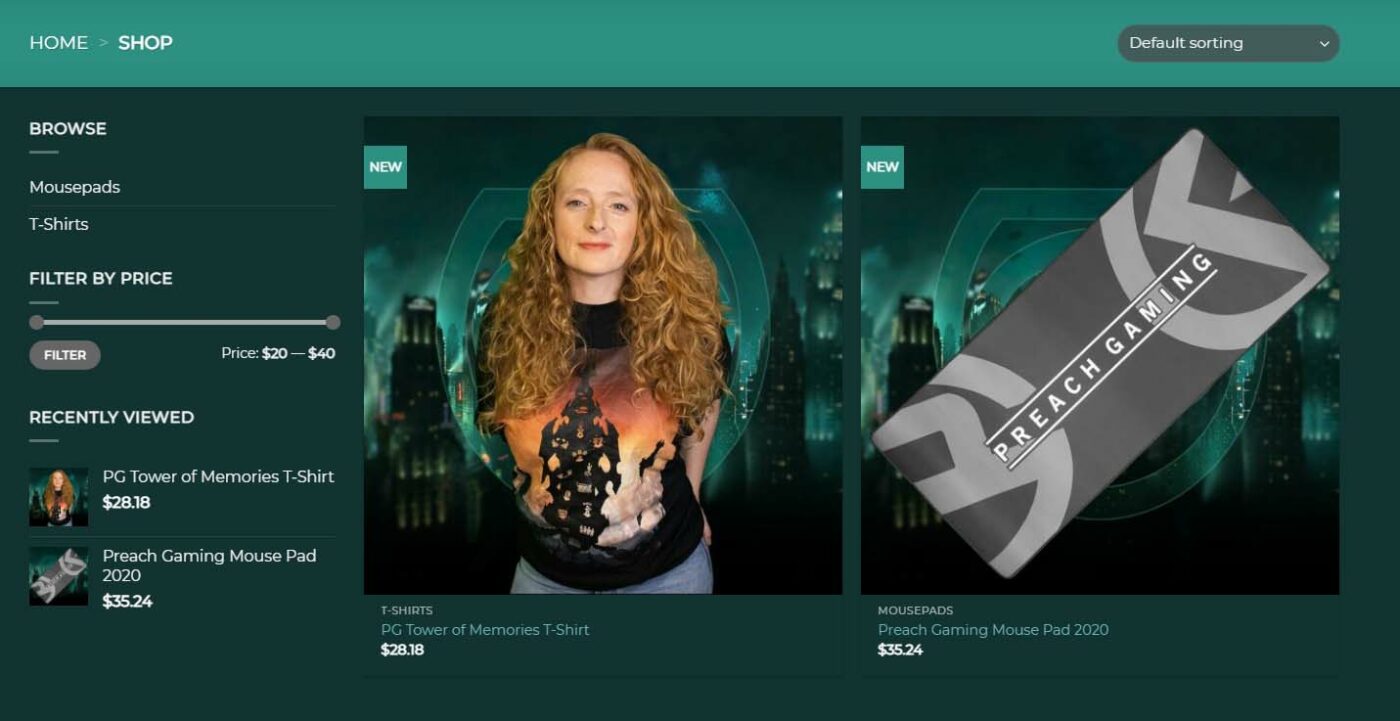 A lot has changed over at Preach Gaming, and that includes new members of the PG Team. You can find info about all of us over on the Team tab along with info about what gear we use.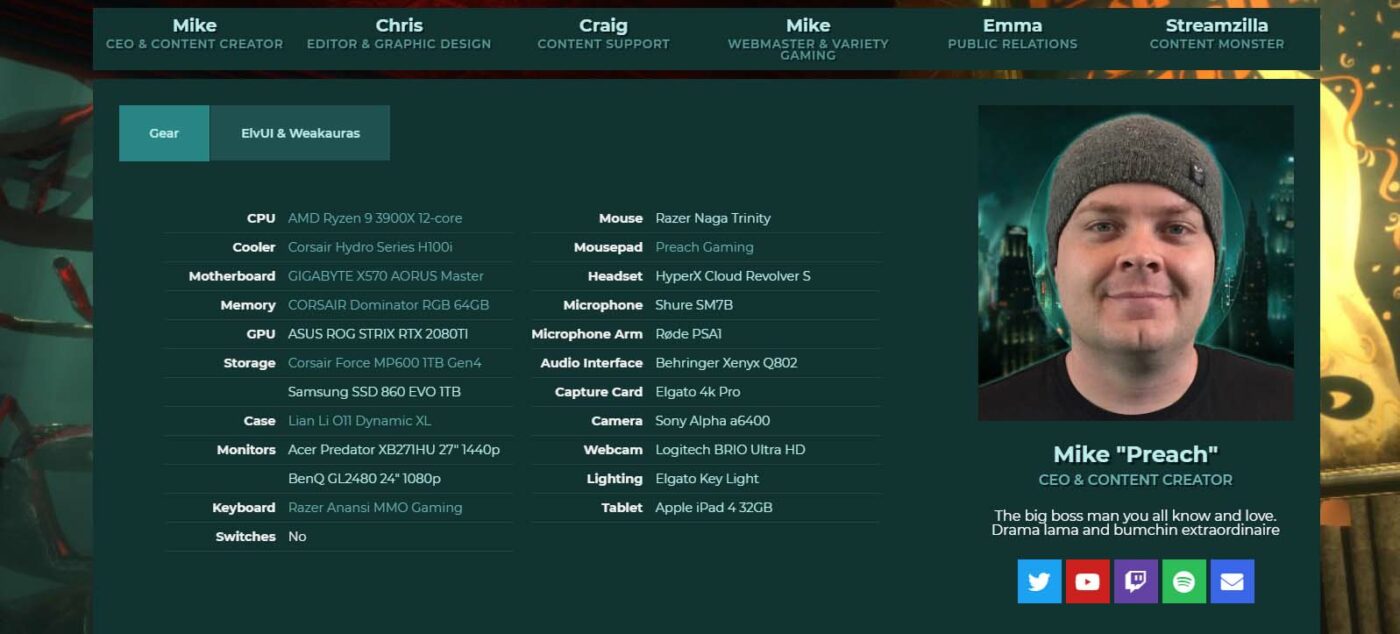 As we already mentioned we couldn't have done this alone and in August 2017 the business took a huge blow with the demonetization of the Youtube channel. The business almost ended, and with the loss of a huge portion of its income, it seemed like Mike would have to let the rest of the team go. That didn't happen, and it was all thanks to the support from fans, particularly on Twitch, and Patreon, that helped Preach Gaming not only survive, but thrive. Your continued support has allowed the business to evolve from one man and his bum chin to the bunch of nerds with wildly varying chins it has become today.
With that being said it was always a frustration that the way people chose to support us would dictate what content they could see. Patreon supporters could see Patreon only videos but didn't have access to any of our awesome Twitch emotes, whereas Twitch subscribers couldn't see our Patreon content and didn't get their name in a Drama story. We want to offer all our supporters the same benefits and we need a new system. That is where Premium comes in.
Premium is our own support and reward system where we've tried to be as transparent as possible about what rewards you can get for your tier. All tiers get Premium access, which is where all our current Patreon content will be found, but the higher up you go in tier, the more rewards you unlock. Tiers range from $1 for Mate level which gives you access to the Premium Content, to $10 for Epic which also gives you a 10% discount in our shop and your name able to be used in a Drama Time, all the way to $50 for Legendary access, where you will also get 25% off in the shop, your name used in Drama Time, a vote on future merch designs, access to the Legendary Discord Server, and game nights with Mike. If you wanted to support us above Legendary Tier you can contact us and we'll make a custom membership plan for you. 
We are really happy with the ability Premium gives us to be able to offer our content to all supporters without you having to guess which platform you'd rather support us on. Another way we've also tried to reduce the guess-work is in terms of our Drama library.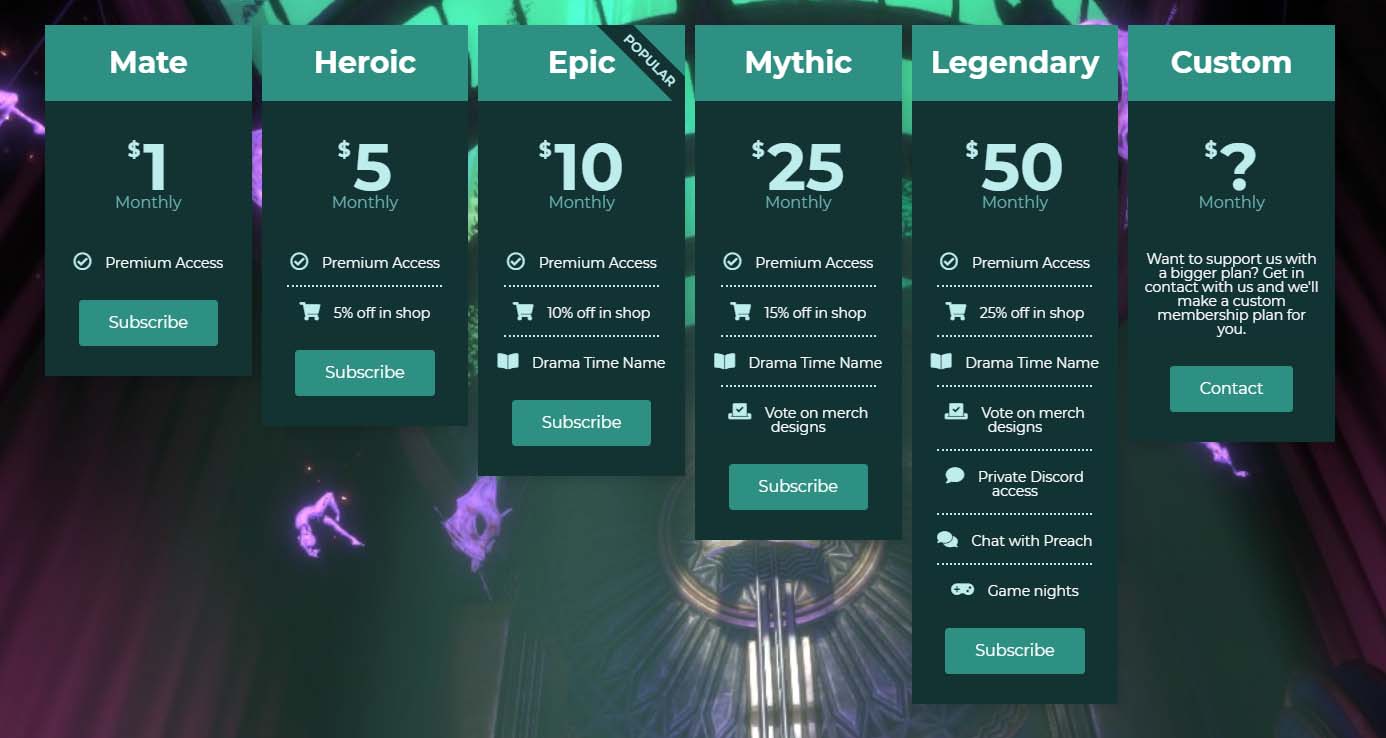 Mike has been reading your stories on a Friday evening since 2012. We've had laughter, tears, intrigue, mystery and plain old bewilderment at some of the stories that Mike has read along the way, but it was always a nightmare trying to find a specific story. There are a few that have become well-loved memes in the community such as Club Penguin, Fred's Tree, and the Raid Manifesto, but trying to find them was a lot harder than it needed to be. To make the Dramas easier to find and more manageable we first went to work re-organising our youtube Playlists where we quickly discovered that we were on Season 8 of Drama Time and not season 5, and where we discovered one playlist had stories from three different years. Getting the stories organised by date was only solving one problem though and we knew that to be able to find every name and every meme hiding in our vast collection of Drama Time's we would have to go through them all. The Drama library on the website is the result. Here you can find any names used in a story, any categories it falls under and even use the tags category to find any memes or memorable one-liners that came out of that story.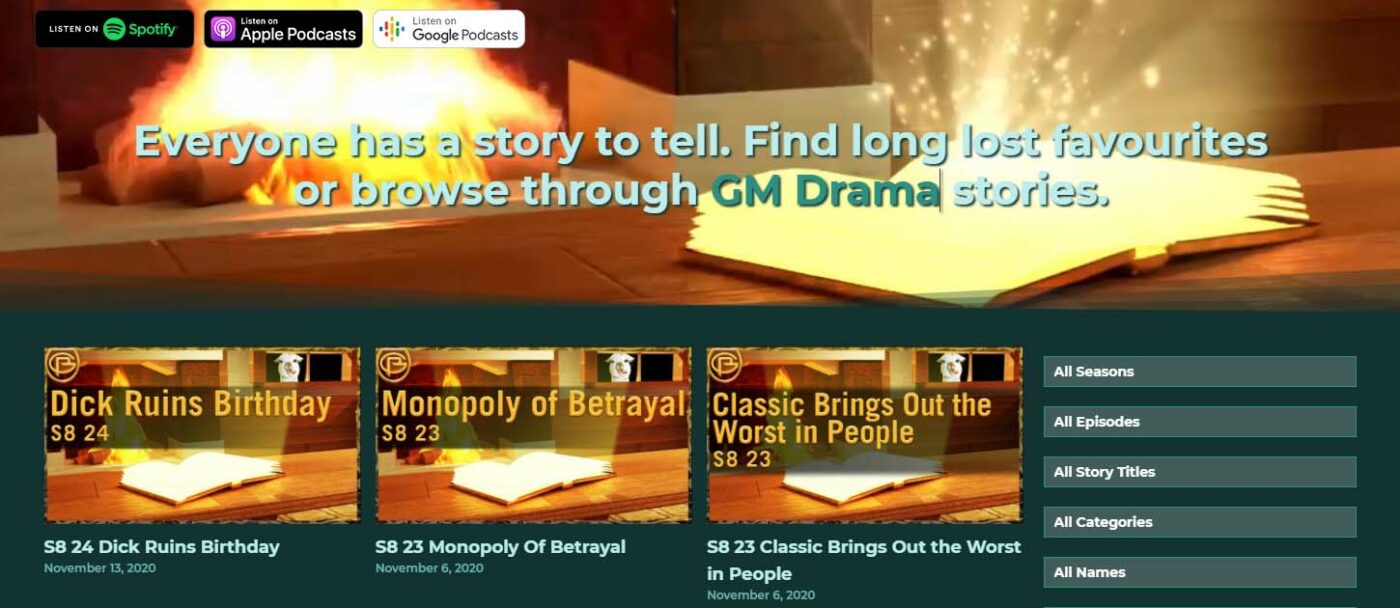 We have big plans for the Website in the future and we hope you're as excited as we are to see it all take shape. One of the first changes you'll be seeing will be fairly soon, at the moment we're using our tried and trusted Bioshock theme with a waving Big Daddy on the front page there, but that big guy along with the Bioshock theme will be replaced in 2021 with a new theme that you'll also see reflected across the entire spectrum of PG outlets.
Unfortunately we've had to delay several community features that we wanted to have come launch day, but they were too grand of an undertaking to complete before we wanted to go live. We're still very eager to have features like transmog competitions, friendships, messaging and a community hub fully integrated into the website, but because of their complexity will have to remain a plan, rather than a promise at the moment.
With all that being said, thank you for reading, enjoy browsing the site, and we'll see you in The Shadowlands.